Sharpening Services for Stylists / Barbers / Salons
We know that shears are the most important tools of the professional hairstylist and barber. Your reputation depends on how well they perform. The reputation of Simply Sharper depends on your satisfaction with our sharpening services. We sharpen all brands of shears and scissors including Convex and Beveled edge shears. Using the Scimech Sharpening System, the finest single head flat hone sharpening system in the world, we are able to gentle return the item to "like new". Our Scimech Flat Hone Sharpening System gently removes nicks and wear without grinding or damaging your shear blades and restores the shear to its original factory condition.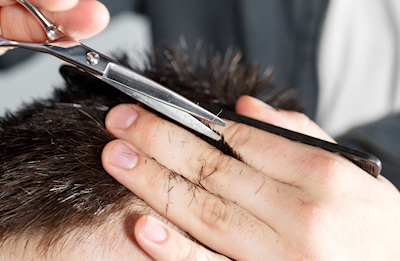 Precision Sharpening Includes:
Salon Sharpening Service - We'll come to you! (Fox Cities and surrounding areas)
Get your shears sharpened the same day not weeks
Each shear is custom sharpened according to that shear's design
Serviced by a Certified and Factory Trained Technician
One on one consultation with you and one of our technicians to learn your style of cutting
Complete analysis of your shears
Re-sharpening of blade edges to better than factory sharpness
Cleaning, lubricating and inspection of all moving parts
Tension adjustment
Blade balancing
Bonika Shears warranty center
Using the official Scimech Scissor Flathone recommended by Bonika Shears
Why Hone the inside ride line of beauty shears?
Removes burrs
Strengthens cutting edge
Silky smooth feel
Makes shears quiet
To have your shears, knives, scissors, etc. sharpened, call us at 920-470-0825 or use our mail in order form found on our contact page.
Caution:
All shears and thinners, when returned, are extremely sharp. Because each blade is individually custom hand honed, they are usually sharper then when bought new. If you are not comfortable or use to a razor edge on your shears, then you can cut a piece of end paper or a paper towel, using the full length of the blades 2-5 times or until desired comfort is reached.